Thank you to our friends at OceanFirst Bank for supporting our Youth Advocacy Program at our Safe House. OceanFirst Bank's generous financial support will help us to provide the counseling and advocacy that children staying with us at our shelter so desperately need. 
This generous donation of $15,000 will support the Safe House's Residential Youth Advocate position. The Safe House Youth Advocate provides a welcoming environment for children as soon as their family arrives by providing them with an age-appropriate tour of their temporary home and a welcome bag with items to make their stay comfortable. Once the family settles in, counseling assessments are completed to understand the needs of each individual. The Youth Advocate works with each child to process the abuse they may have witnessed, and supports them as they adjust to their new environment and, in some cases, a new school, too. Advocates also incorporate creative arts, drama, music, and play therapy into counseling for children and teens. Because children are often the silent victims of family violence, it is critical that 180 provides intervention. Children who have witnessed violence often cannot express their feelings about traumatic events in their lives using words alone.
Children who experience the stress of living in a violent home often display negative behaviors, such as hitting, throwing tantrums, crying, becoming quiet and shy, or showing signs of: poor impulse control, verbal or physical aggression with peers and/or family members, low frustration tolerance, feeling sad, depressed or anxious, physical complaints without signs of sickness, poor school performance, low self-esteem, acting too old or too young for their age.
Thanks to this generous gift from OceanFirst Bank, children can receive the specialized support they need as they heal from the effects of domestic violence. Thank you OceanFirst Bank! Your ongoing support means so much to us!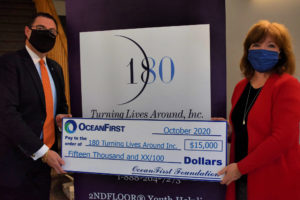 More about 180's Safe House: The cornerstone of our compassionate and comprehensive services for both female and male survivors, our emergency Safe House offers a confidential and secure location for survivors and their families fleeing violence. Survivors are provided with family housing for 30-60 days, counseling, case management, assistance in finding housing, and other supportive services regardless of sexual orientation and/or gender identity. The Safe House is completely handicap accessible.
180 believes that no one should have to choose between their own personal safety and leaving their pet behind in a dangerous situation so our Safe House is equipped with pet friendly rooms.
We provide survivor families with all basic needs, including food, toiletries, and clothing, and empower them to work towards independent living during their stay. Additional Safe House resources include experienced advocates who help survivors envision an abuse-free future, caring counselors who provide the tools to establish a safe new path forward, support finding employment and permanent housing, education, resume writing, and budgeting. 180's legal advocates can also assist residents in seeking restraining orders if needed.
Emergency Safe House Features
12 Individual Family Bedroom Suites with Private Baths
Communal Kitchen, Dining, and Living Areas
Laundry Facilities
Teen Recreation Room
2 Creative Arts Therapy Studios with Counseling Available for Parents and Children
Counseling Rooms
Computer/Library Resource Room
Individual Storage Units for Each Family
Outdoor Playground and Garden