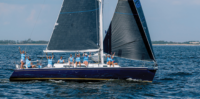 Dare to Make Waves
17th Annual Ms. Race Charity Sailing Regatta
 Saturday August 21, 2021
Every year, members of the community come up with fun and creative ways to help 180 in our work to end domestic and sexual violence. You can join the effort by organizing an event of your own! No event is too big or too small. Every dollar counts. No matter how much money is raised, your event is guaranteed to spread the word about 180's services and let your networks know you care about the issues of domestic violence and sexual assault.
Here are some ideas:
Shop for 180
When you shop with Amazon and select 180 as your designated recipient through the Amazon Smiles program, 180 receives 0.5% of the price of your eligible AmazonSmile purchases. Don't forget to select 180 Turning Lives Around when you select your charity recipient. Learn more here.
Please know, Amazon does not share your contact information with us at this time, so there is not a way for us to recognize your participation in this program.
Honoring Family & Friends
We welcome tribute gifts to celebrate holidays, birthdays, weddings, and anniversaries or to honor the memory of a loved one. 180 will send a card to your honoree or, in the case of a memorial gift, to a family member or friend you specify. The card will include your name and that of your honoree, but not the amount of your gift. Please call Amanda Finn, Development Manager at (732) 264-4360 ext. 4231 with questions.
Go Purple or Teal for 180
Wearing purple in awareness of domestic violence or wearing teal in awareness of sexual assault is a great way to raise these issues in our community. You can ask friends and coworkers who participate to make a donation.
Race for 180
Running a race or participating in a bike race? Have friends sponsor 180 in support of your effort.
Host an event
Host a yoga class and invite your friends, partner with a local business to host a shopping night to benefit 180, get your neighborhood together for a garage sale, or host a carwash with your sports team. Donate the proceeds from any of these events to 180.
Celebrate for 180
Birthdays, anniversaries, or weddings can be a great way to ask for donations in lieu of gifts.
Dine for 180
Partner with a local restaurant to donate a portion of sales to 180.
Concert for 180
Host a concert with friends who might have a band or have some fun with an open mic night for 180. Instead of charging for tickets, guests make donations to 180.
House Party for 180
Invite people to your house party and ask attendees to pay a cover fee as a donation to 180.