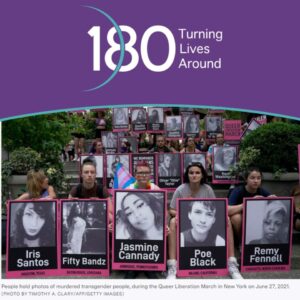 The second week of November holds space for Transgender Awareness Week, culminating with the Transgender Day of Remembrance on November 20th. During this time, transgender people and their allies bring attention to the community via education, sharing stories, and drawing attention to the prejudice, violence, and discrimination that affects the transgender community.
At 180 Turning Lives Around, we remember and honor the transgender community during Transgender Awareness Week. We denounce all forms of violence and we provide our programs, services and support to all individuals regardless of gender identity/expression or sexual orientation.
The National Coalition Against Domestic Violence (NCADV), relays that domestic violence rates within the LGBTQ community are much higher on average than in heterosexual couples. 44% of lesbian women and 61% of bisexual women have experienced rape, physical violence, and/or stalking by an intimate partner at some point in their lifetime, as opposed to 35% of heterosexual women. Also, according to the Human Rights Campaign (HRC), 2021 has already recorded the most deadly year for the trans community with at least 45 transgender people, most of them Black or Latinx, killed. The HRC also points to studies which suggest that around half of transgender people and bisexual women will experience sexual violence at some point in their lifetimes. Many experts agree that these numbers could actually be much higher because collection of data on transgender murder victims is difficult because their gender identity is not always reported correctly by law enforcement, family, and journalists.
180 Turning Lives Around remains dedicated to cultivating a safe, confidential, and empowering environment for the transgender community and all communities, and we remain committed to staying current on LGBTQ issues and healthcare concerns, completing ongoing professional development, and continuing dialogues with LGBTQ community leaders.
For more information on 180's services and how we provide support: https://180nj.org/get-help/180-programs-services/safe-space-180-and-the-lgbtqi-community/

For more information on the history of Transgender Awareness Week: