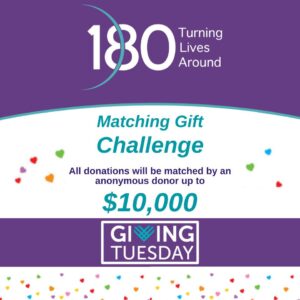 Dear Friends of 180,
Giving Tuesday is November 30 which is just a few days away! We are thrilled to announce a special Matching Gift opportunity!
This year, your donation received anytime today through Tuesday, November 30, will be matched up to $10,000. This is an exciting challenge thanks to a very special donor. This special friend of 180 has provided many gifts of kindness and generosity over the past few years and we hope that this most recent gift will inspire our community to participate!
Please help 180 meet our Matching Gift Challenge by texting your gift to 180STRONG at 414-44 or give online at the link below. All gifts will be tracked on our text-to-give platform and online for this matching gift opportunity.
Your participation means so much to survivors of domestic and sexual violence in Monmouth County; please accept the challenge and give today!

Best wishes for a happy, healthy and restful Thanksgiving with your family.
Sincerely,
Anna Diaz-White, Executive Director
Brian M. Nelson, Board President