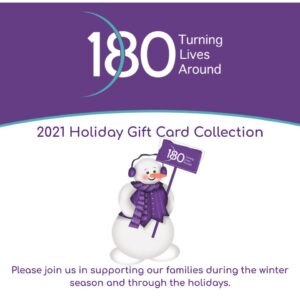 This holiday season, 180 Turning Lives around will be supporting our families through our Annual Holiday Gift Card Drive.
Our Holiday Drive is a treasured tradition that gives you the opportunity to help us create The Best Holiday Ever for survivors of domestic violence and sexual assault. Together, we can help families enjoy this season of giving as they move beyond abuse. Our Holiday Gift Card Drive is now beginning! Please donate gift cards in denominations of $25 or more from stores such as:  Target, Walmart, Amazon, Best Buy, Macy's, Foodstores, etc.
For the safety of survivors and staff, we are not collecting physical gifts such as housewares, toys, clothing, etc. Rather we are distributing gift cards to families in order to uphold social distancing and the frequency of visitors to our office. Thank you for your flexibility during these unprecedented times. By donating gift cards, you empower survivors to shop independently, purchase the gifts on their children's wish lists, and help to create a happy holiday for their family despite financial circumstances resulting from abuse.
Please make arrangements to drop off the gift cards by Friday, December 10, by calling: Amanda Finn at (732) 264-4111 ext. 4231 or email amandaf@180nj.org

Thank you for helping us make the holidays special for so many clients and their families!

*Please wear a mask upon dropping off the gift cards.*