Please join us at our "Hands of Hope" gathering in recognition of National Domestic Violence Awareness Month on October 13th from 5:00pm – 6:30pm at the JBJ Soul Kitchen, Red Bank. Join our community as we enjoy Chef Emily's delicacies and stroll the garden of the Soul Kitchen while viewing survivor-made art displays. We invite you to meet 180 counselors and get an up close look at our Amanda's Easel Creative Arts Therapy Program. The event is complimentary thanks to the generosity of the JBJ Soul Kitchen and we look forward to seeing you there!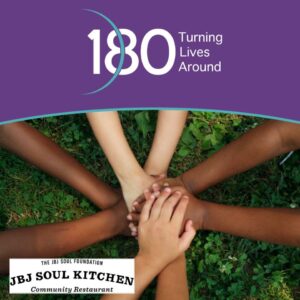 This year's theme "Hands of Hope", focuses on the metaphor of hands lending hope to others. With the absence of physical handshakes and hugs over the last year we have still been able to embrace those who are in need of our support, encouragement and restoration. At 180 we have done this through listening, reaching out, advocating, and speaking up for those who have been silenced.
Our gathering will include a short greeting and overview of our program. We will take a moment to honor Amanda's Easel Program Coordinator, Cindi Westendorf, who passed away last year. Luminaries will be lit in her memory and in honor of her life's work which helped countless families from Monmouth County heal from domestic violence.
We truly thank you for making it possible for 180 to be a place of hope, safety & comfort for thousands of Monmouth County families affected by domestic and sexual violence.
With warm regards,
Anna Diaz White
Executive Director
Brian M. Nelson
Board President