Special Information for Teens and Sexual Assault
Sexual assault is oral and/or genital penetration, no matter how slight, of a person without their consent by a perpetrator, who uses hands, genitals, and/or an object. Teen girls fall into the highest risk group for sexual assault, the risk of rape is four times higher for women aged 16 to 24 (Warshaw, 1988).

As with sexual assault in other age groups, most teen sexual assaults fall under the category of date or acquaintance rape – assaults committed by someone that the person knows. Young women between the age of 14 and 17 represent an estimated 38% of those victimized by date rape. (Warshaw, 1988).
An ever-growing number of sexual assaults are being committed using what is commonly known as date rape drugs. Drugs like GHB, which are colorless and odorless, are dropped into an unsuspecting victim's drink. Shortly after the victim first feels the effect of the drug (extreme drunken-like feeling, nausea, vomiting), drug-induced amnesia takes over, and in many instances the victim is rendered completely unconscious. Sexual predators use this method because the victim exhibits little to no resistance during the assault, and cannot account for the time that the assault took place, which becomes problematic in proving that it happened.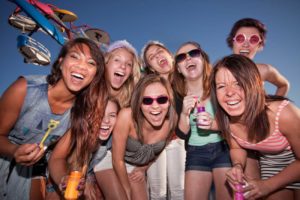 Sexual assault, regardless of age, is NEVER the survivor's fault no matter what she wore, where she was, whether or not she fought back, or whether or not she was drinking or doing drugs. It is also not a result of uncontrollable sexual desires. It is about power, control and violence where sex is used as the weapon.
Survivors of sexual assault may experience a range of emotions afterwards, including feeling guilty or responsible for the assault, feeling of betrayal, questioning their judgment and having difficulty trusting people.
If you or someone you know is a survivor of sexual assault, resources are available. The 180 Sexual Violence Program offers counseling and 24-hour advocacy services (such as hospital and police accompaniments). Adolescents who are being sexually abused can contact the 24-hour Sexual Violence Hotline at (888) 264-7273.
2NDFLOOR® Youth Helpline
180's 2NDFLOOR® Youth Helpline is an accessible, free telephone helpline to assist children and adolescents with their day to day concerns. Trained listeners encourage discussion, provide support and offer practical guidance.
Call (888) 222-2228.
Click here to be connect to 180's 2NDFLOOR® Youth Helpline website.